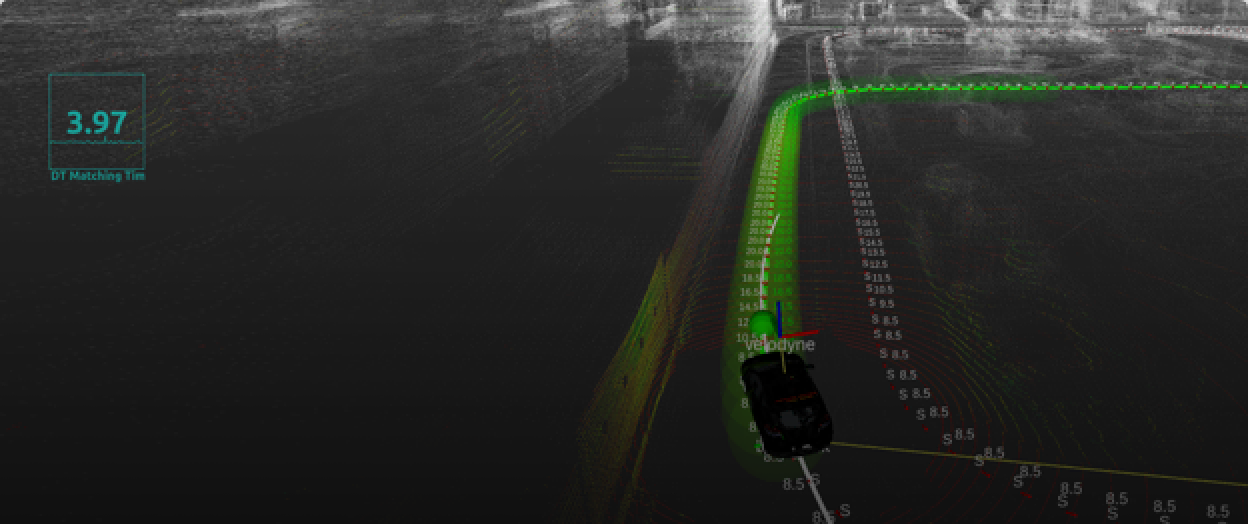 Autonomous driving solutions
A major turning point in the approach of the autonomous driving era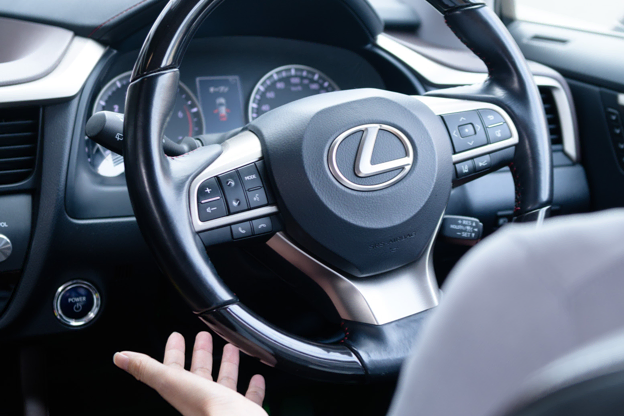 While the conventional vehicle of the present day is maturing—becoming more convenient and safer, equipped with features such as automatic safe-distance control on expressways, collision prevention, and automated parking assistance—what draws market attention today is fully autonomous driving technologies.
Autonomous driving technology brings with it a whole new standard of common sense in vehicle-selection criteria such as design, fuel efficiency, and comfort. Indeed, autonomous driving will even change common sense regarding transportation entirely. It is no exaggeration to say that we now stand at the same kind of epochal turning point we did about 100 years ago when the horse-drawn carriage, once the most common mode of powered transportation, was replaced by the automobile.
However, the technologies required to achieve autonomous driving are diverse. In addition to hardware technologies used to date, a wide range of solutions to problems of data collection by sensors will be required, as well as further artificial intelligence and software development. Moreover, it will be necessary to link these elements with a high level of precision and to optimize their performance. Fully autonomous driving is still in the development stage.
Supporting development with one-stop services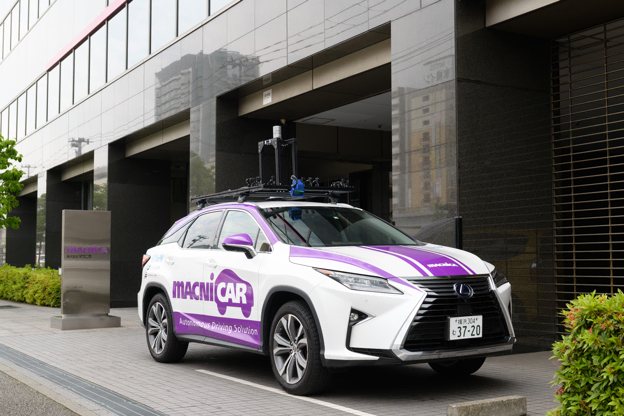 Macnica has long provided development support to established automobile-related companies through semiconductor and security products; now, with momentum growing behind the development of autonomous driving technologies, we are actively developing solutions tailored to this new demand.
Macnica solutions are characterized by their comprehensive nature. We offer everything from consulting services in the selection of optimal sensors and proposed analysis methods for input streams that change constantly (for example, road and traffic conditions) to a whole series of other services, including creation of artificial intelligence architectures, effectiveness testing of the systems we design, and systematization and implementation services. Furthermore, by providing systems that include vehicles, Macnica can respond to virtually all customer development needs.
Solution services for the mobility as a service era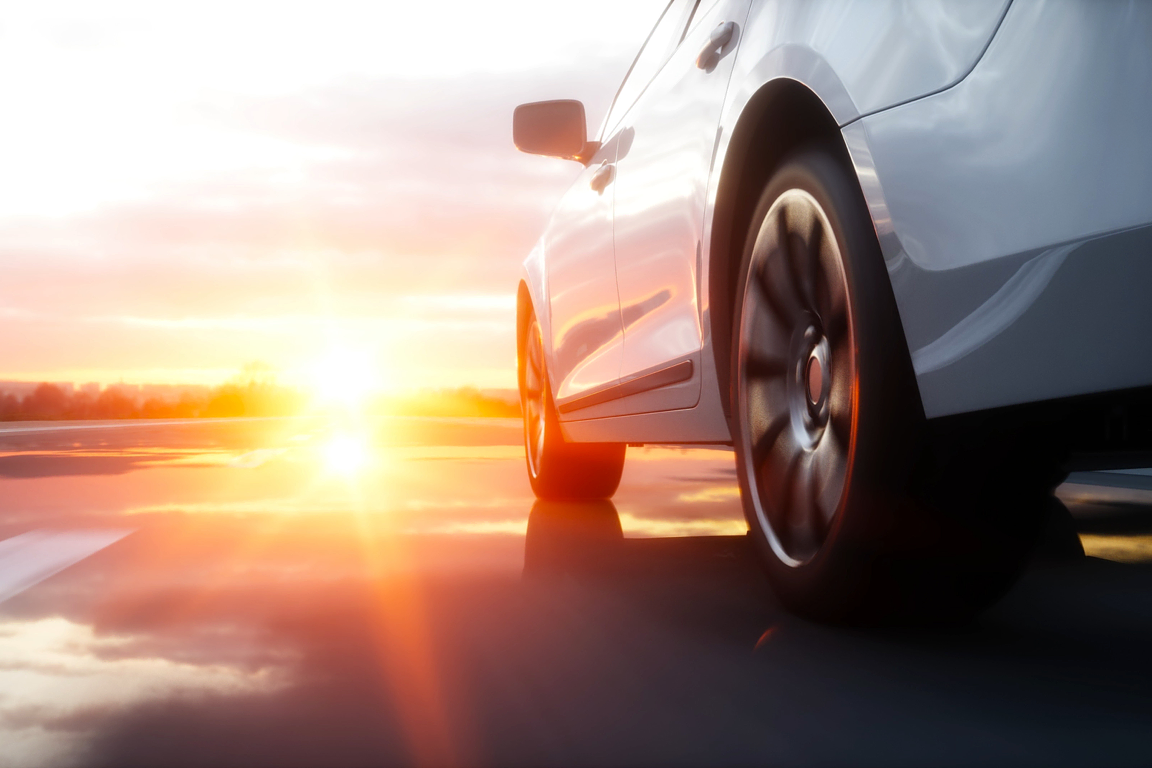 As autonomous driving systems improve, customer needs and their expectations of Macnica will change. Therefore, we strive to extend our horizons to an era beyond the start of fully autonomous driving, using an approach that includes thinking about how people will actually use automated vehicles in the future.

For example, for practical testing of new service models based on autonomous driving technologies conducted by companies in industries such as telecommunications, construction, construction machinery, agriculture, public finance, insurance, and fleet, as well as by national and local governments and other public entities, we will propose vehicles for the purpose of services development, along with data cloud platforms and security services, maintenance, and other solutions, presenting our customers with increasingly high value-added services.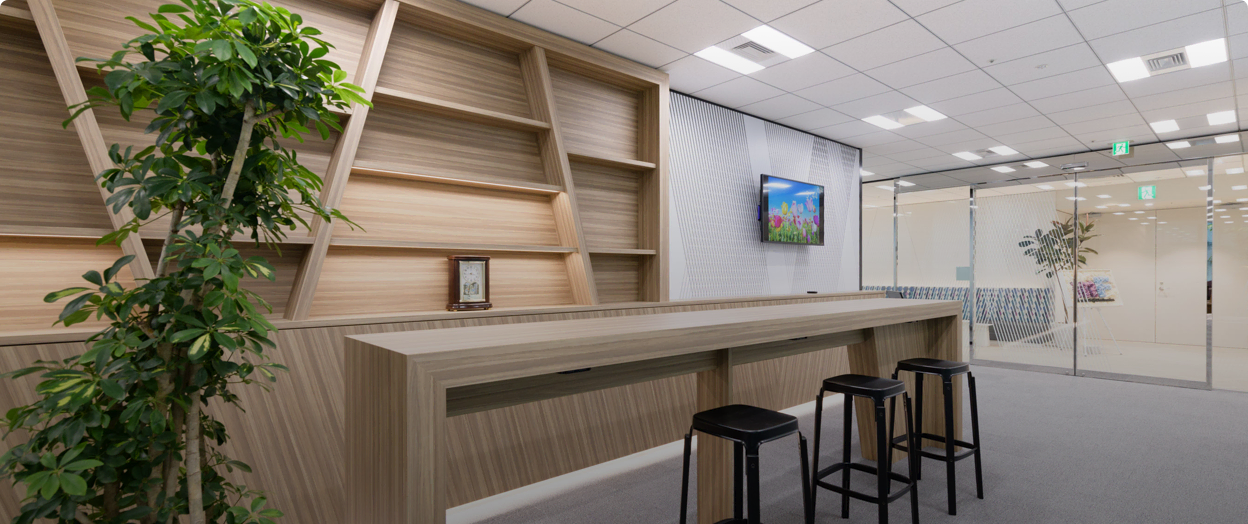 New Shinagawa office
Incorporating new ideas about office space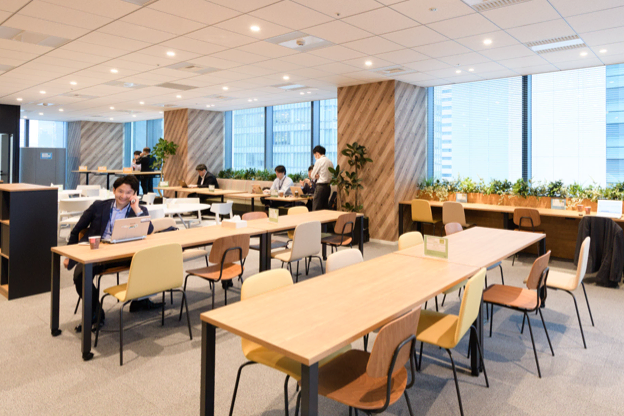 Macnica opened a new office in Tokyo's Shinagawa in March 2019.

The new Shinagawa office was conceived as part of efforts to effect changes in the way people work and to implement the concept of activity-based working (ABW). ABW seeks to maximize productivity by letting workers flexibly choose workspaces and desks depending on the type of work they are doing. ABW has been increasingly adopted as a workspace concept in Europe and the United States, particularly at global companies.
Employees themselves design the way they work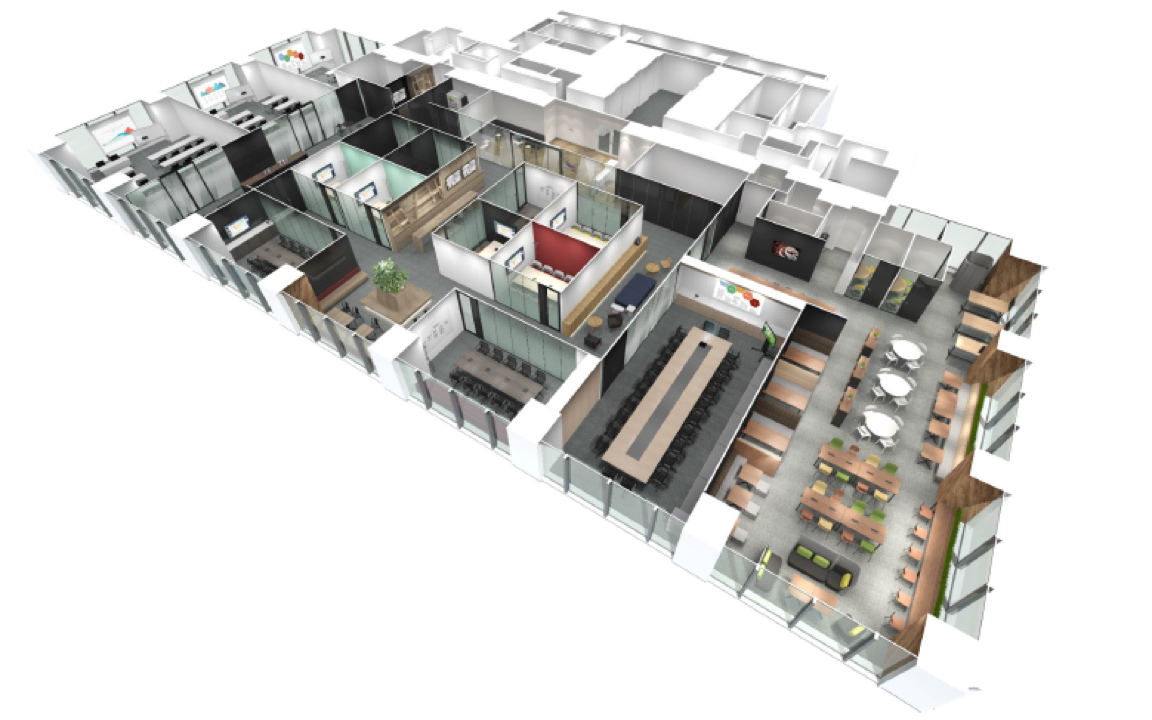 Being allowed to choose a desk freely is similar to the free-address system that has become more common in Japan. However, ABW goes beyond allowing employees to choose where they want to work in an office with no regularly assigned desks.

The main aim of ABW is to improve productivity by preparing multiple workspaces of different types and allowing employees to use them as needed depending on situations and work content.
An awareness of better productivity results in office spaces that employees want to work in
A project team was formed in-house in conjunction with the new Shinagawa Office project. Based on opinions from employees collected by the project team, acknowledging the significance of working in a well-thought-out office and also recognizing needs dictated by social and business environments, Macnica decided to incorporate features of ABW in the new office after settling on a desired working style and office concept.

Employees say things like "I need to concentrate in a private room to draw up a plan quickly" or "I want to confirm available times with colleagues and then quickly gather to work together at a standing desk" or "I want to meet with colleagues in a setting like a booth at a casual-dining restaurant where we can prepare work materials together around a computer screen." At the new Shinagawa office, by enabling employees themselves to decide on the best combination of work content and work style depending on circumstances, we have been able to design spaces that allow employees to perform work more autonomously.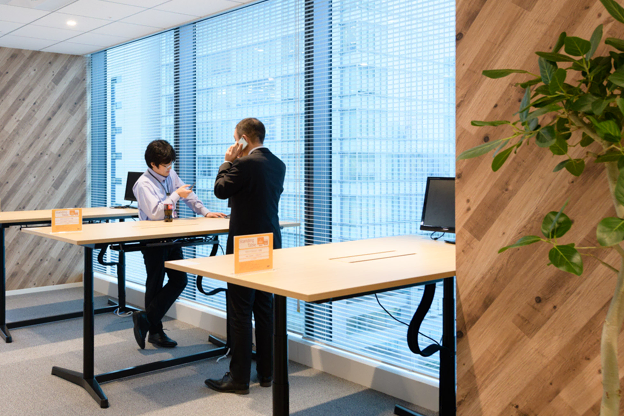 You can initiate a meeting immediately—without reserving a room or waiting for a room to open up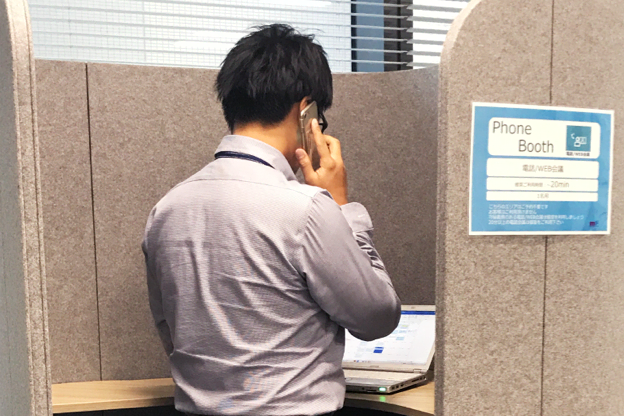 You can get to work in a heightened state of concentration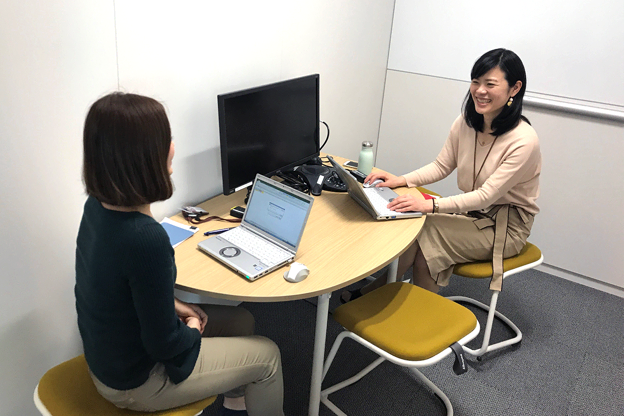 You can meet face to face for a relaxed talk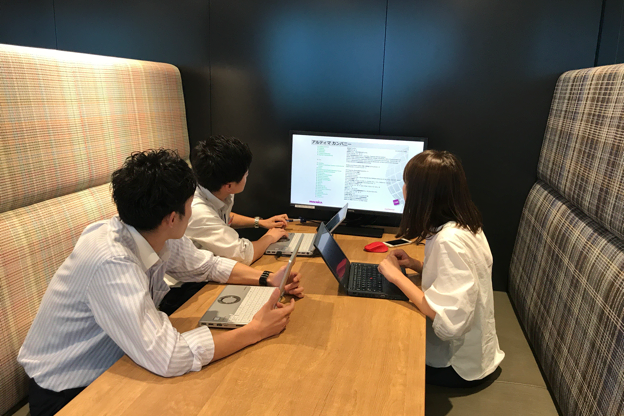 Editing materials looking at a screen while discussing content with colleagues increases efficiency
Creating open, easy-to-use office environments ultimately speeds up work and improves quality of work. However, in order to see that all employees become aware of these effects and ensure that our office spaces are more than just easy places to work—to ensure that employees want to work in these spaces and that Macnica is a company employees find satisfying to work at—we will continue to enhance our office environments and make them more conducive to productivity.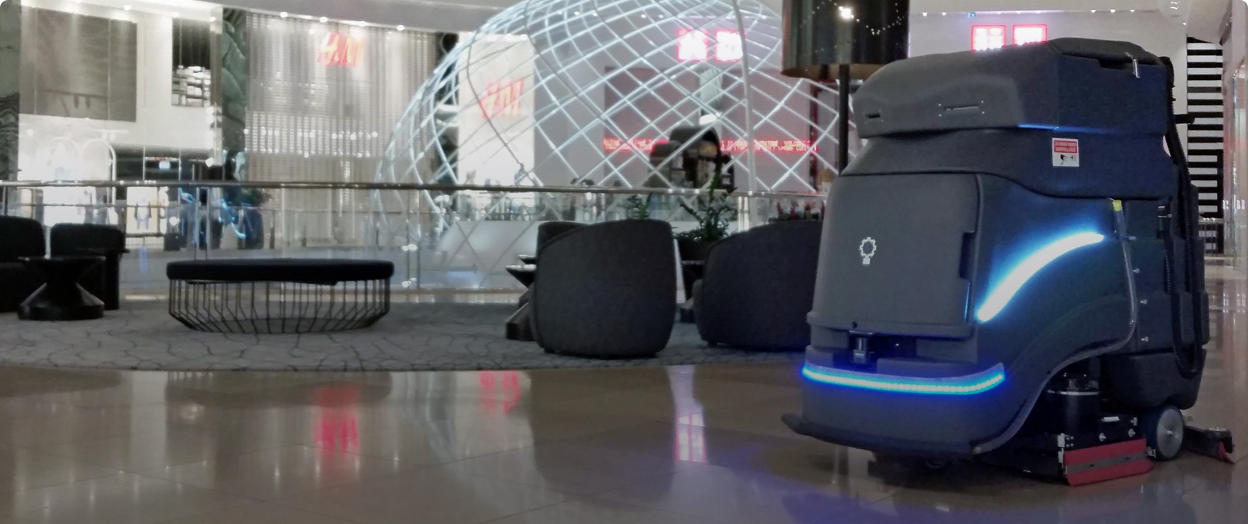 The Neo automated cleaning robot
What worries the cleaning industry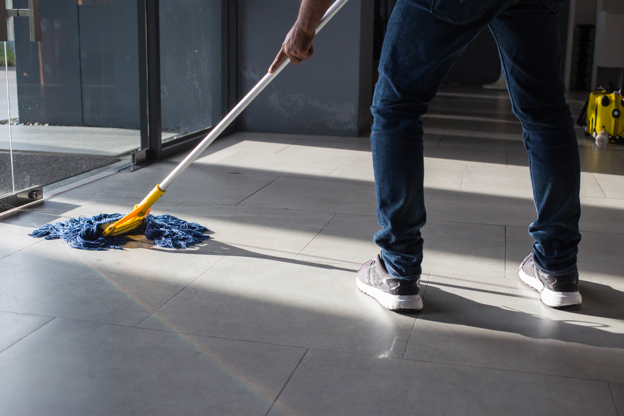 Janitors and other cleaning staff work behind the scenes to provide support at facilities such as train stations and offices—spaces we often use without much thought—keeping them comfortable to use. In recent years, the cleaning industry has experienced a boom in Japan, reflecting a rapid increase in inbound tourism and building ahead of the upcoming 2020 Tokyo Olympics and Paralympics. The number of facilities requiring maintenance has increased. However, there is a shortage of cleaning staff—a problem for the entire industry. In particular, cleaning of buildings and offices is mostly done at night, in the early morning hours, and on weekends. Rising labor and job advertisement costs at building maintenance companies have forced them to increase cleaning fees, in turn increasing the cost burden facility owners face.
Support allows smooth deployment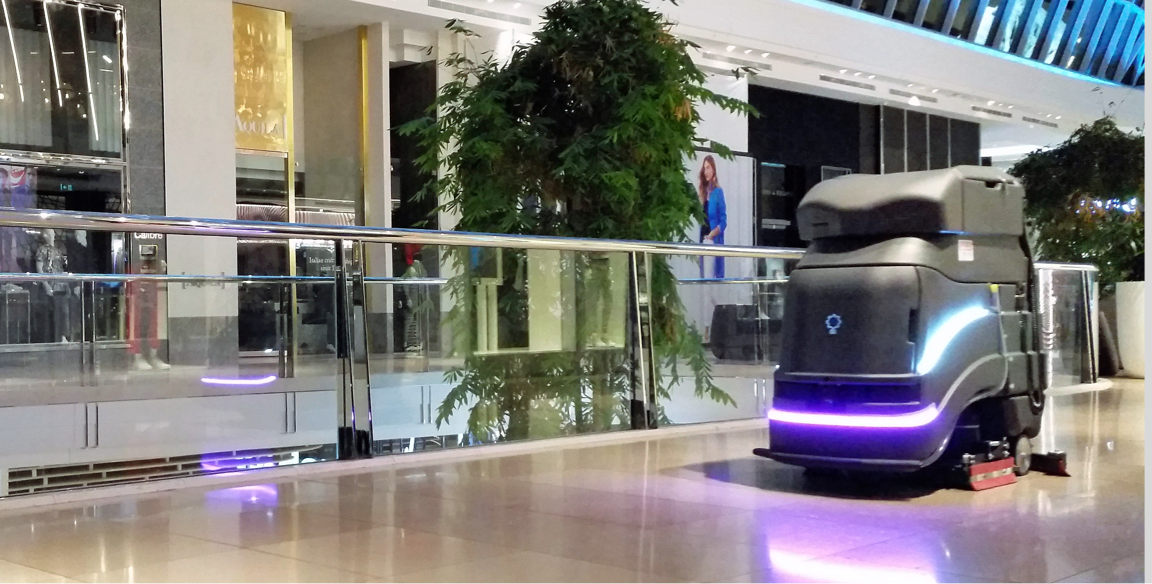 In recent years, opportunities to deploy automated cleaning robots as a means of dealing with the cleaning industry's labor shortages have increased. Macnica launched services using its automated cleaning robot Neo (made by Avidbots) in 2018. Neo can automatically perform a wide range of floor cleaning tasks efficiently and safely. Neo's high-precision mapping function copes with day-to-day layout changes in commercial facilities and avoids obstacles to complete cleaning tasks with optimized routes. In addition, cleaning work is always performed the same way and with a consistent level of quality, making it easily visualized and managed through post-work reports. Neo has been successfully introduced in many places, including airports, train stations, and commercial buildings.

Some customers seem uneasy about safety, about the thoroughness of the cleaning achieved, and about operation of robots by cleaning staff when introducing an automated system. With support from Macnica tailored to customer needs, however, Neo has been smoothly deployed in various situations. Customer feedback has included comments such as "The cleaning staff and the robot worked together, leaving large spaces to the robot, while narrow spaces were handled by the people; we were very satisfied."
We provide services tailored to customer needs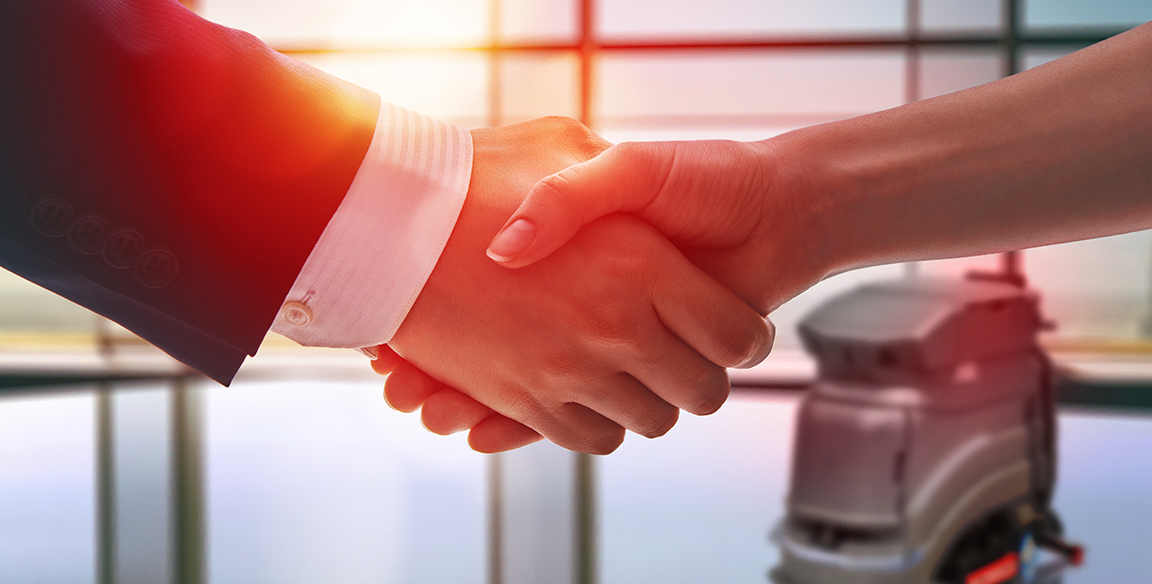 The automated cleaning robot industry is still in its infancy in Japan. Customers introducing automated cleaning services often do not have sufficient know-how at first.

However, we believe opportunities to deploy automated cleaning robots will continue to grow, reflecting labor shortages and demand for improved service quality.

Macnica sells high-quality service robots such as Neo, provides installation support to reduce customer anxiety when service robots are first introduced, and offers maintenance and support services to ensure effective operation. Through cooperative support services, we contribute to success at customers seeking to achieve business innovation.
Macnica corporate information
Please also refer to this information.